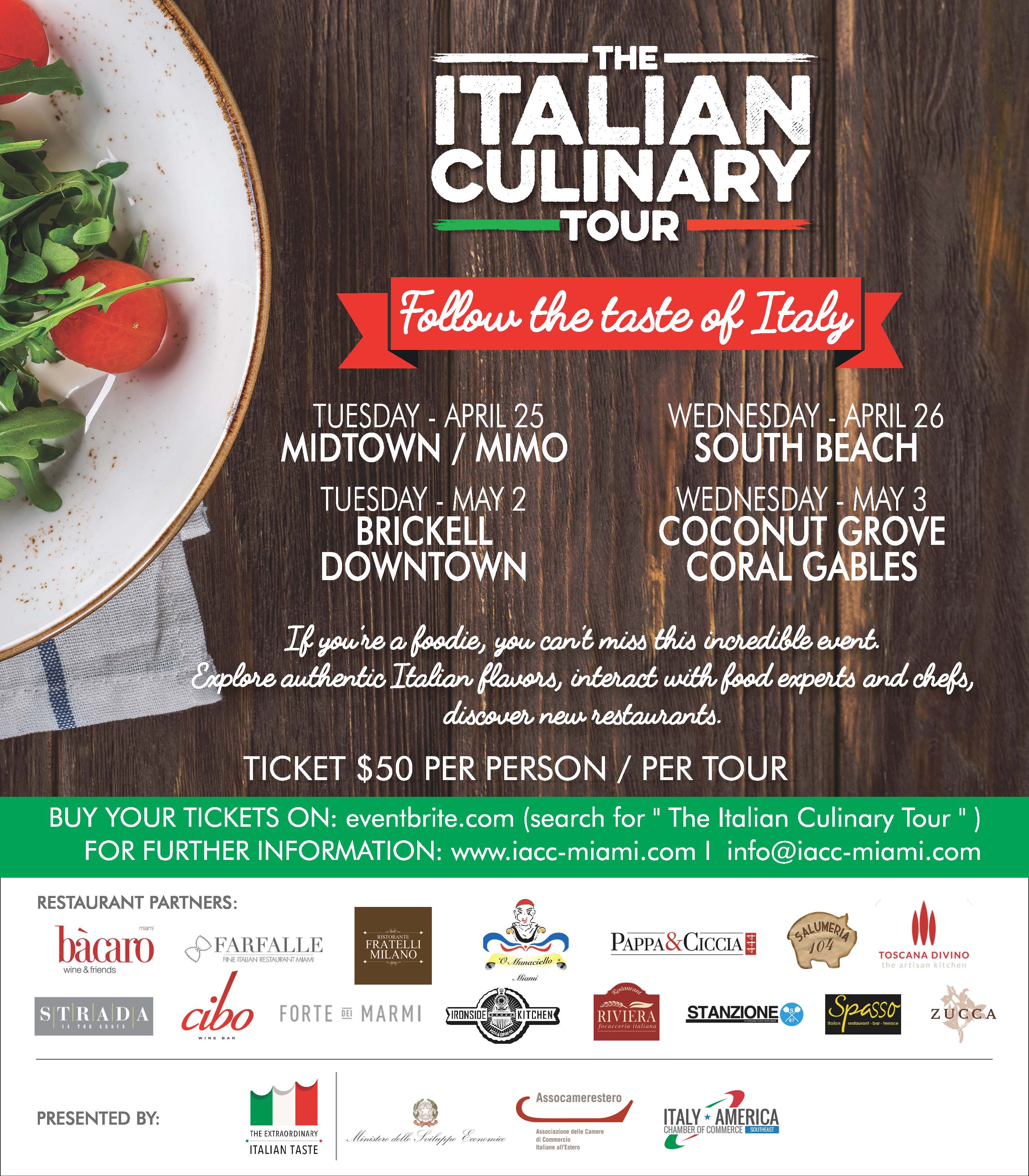 The Italy- America Chamber of Commerce Southeast is glad to announce the first edition of The Italian Culinary Tour (April 25-26, May 2-3).
The Italian Culinary Tour bases itself on the concept of a mobile meal, where participants can not only taste different food and wines, but also have the possibility to follow a true "Path of Taste" moving from one restaurant to the other in order to explore new locations and the Italian Lifestyle.
Attendees will have the opportunity to not only discover new flavors but also to participate to culinary sessions with Chefs as well as Italian sommeliers for the wine pairings.
The event seeks to develop and promote the traditions of Italian food products and upgrade the culture of Italian food and wine with local consumers, in order to counteract the growing phenomenon of "Italian Sounding".
A showcase of the best of Italian food, wine, and entertainment in one night through a guided tour of 4 of the most authentic and excellent Italian Restaurants in Miami.
Each tour takes almost 4 hours and the time of permanence in every restaurant is 30/40 minutes.
Transfers from one restaurant to the other will be organized by private coach, when the following stop of the tour is not at walkable distance.
The project is developed in the frame of "The Extraordinary Italian Taste" program, promoted by the Italian Government.
The Italian Culinary Tour will present a total of 4 Appointments: April 25 – 26 May 2 – 3  | 4 courses dinner Menu | 4 Genuine Italian Restaurants per Tour | 16 Restaurants in total | 50 foodies per Tour.
Watch the official video of the first edition of "The Italian Culinary Tour"

TOUR #1 MIDTOWN/MIMO, Featuring "Puglia in Rose'" Wines on April 25 :
Buy the ticket for this tour at this link: https://www.eventbrite.com/e/the-italian-culinary-tour-midtownmimo-tickets-33596885188?aff=erelpanelorg 
TOUR #2 SOUTH BEACH on April 26:
Buy the ticket for this tour at this link: https://www.eventbrite.com/e/the-italian-culinary-tour-midtownmimo-tickets-33596885188?aff=erelpanelorg 
TOUR #3 BRICKELL/DOWNTOWN on May 2:
Buy the ticket for this tour at this link: https://www.eventbrite.com/e/the-italian-culinary-tour-midtownmimo-tickets-33596885188?aff=erelpanelorg 
TOUR #4 CORAL GABLES/COCONUT GROVE on May 3:
Buy the ticket for this tour at this link: https://www.eventbrite.com/e/the-italian-culinary-tour-midtownmimo-tickets-33596885188?aff=erelpanelorg 
 For further information please contact: info@iaccse.com