The Italy-America Chamber of Commerce Southeast (IACCSE) is a non-profit, U.S. corporation officially recognized by the Italian government which is devoted to fostering trade between the United States and Italy. The Chamber has grown substantially since its inception in 1991, a direct reflection of the rapidly expanding and increasingly prominent Italian business community in the Southeastern United States. Florida, in particular, represents the driving force of the regional economy due to its extraordinary geopolitical location, cosmopolitan and innovative environment, and role as a major international trade hub. The State has fast become the ideal platform for Italian companies and other multinational corporations/headquarters doing business with the United States, Latin America, and the Caribbean. Our Chamber boasts a qualified corporate membership of almost 250 companies of both Italian and American origin, including some of the most prestigious "Made in Italy" brands.
The IACCSE counts on many institutional partners both in the U.S. and Italy. Our organization is part of the Assocamerestero the official association of the Italian Chambers abroad officially recognized by the Italian government. We also work in close collaboration with the Consulate General of Italy to promote the development of trade between and access to the Italian and U.S. markets in a whole host of sectors, including but not limited to food & beverage, logistics, fashion & lifestyle, marine industry, and interior design.
The IACCSE is a staunch defender of artisan craftsmanship, enterprise, and small and medium sized businesses – the backbone of the Italian economy. By organizing delegation visits of U.S. buyers to Italy along with local trade and networking events designed to introduce new Italian products to the U.S. market, we are the face of "Made in Italy" – a concept synonymous with quality and excellence – in the Southeastern United States.
Additionally, the Chamber supports and is involved in the organization of various economic and social events, which contribute to educational conditions in the region while promoting the public image of Italy, its people, and its industries.
Click on the image below to download the IACCSE brochure: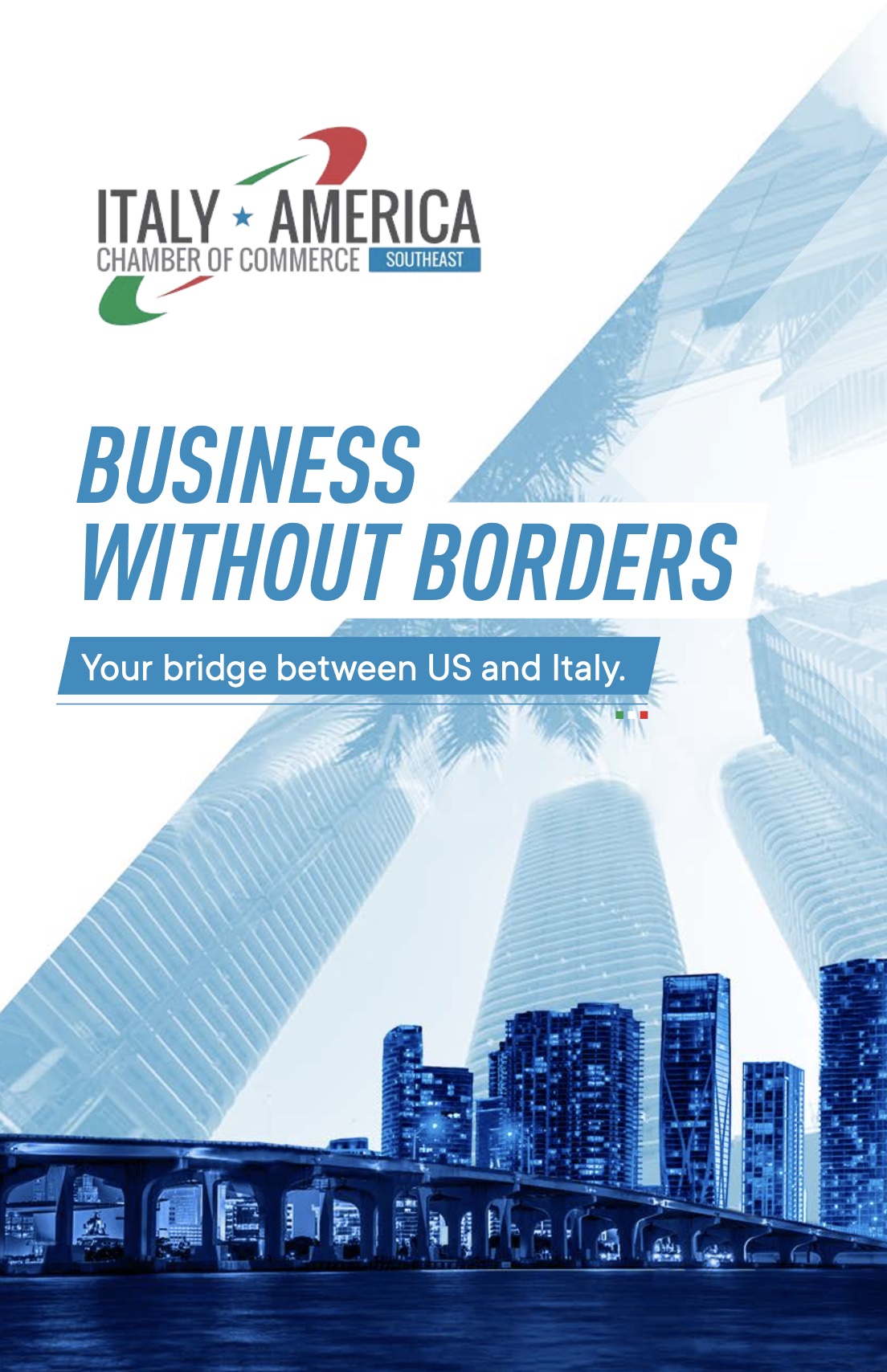 CLICK HERE TO DOWNLOAD THE IACCSE BYLAWS
L'Italy-America Chamber of Commerce Southeast (IACCSE) con sede a Miami è una organizzazione statunitense senza scopo di lucro, ufficialmente riconosciuta dal governo italiano, che si dedica alla promozione del commercio tra gli Stati Uniti e l'Italia. Fondata nel 1991, la IACCSE fa parte di Assocamerestero, l'associazione delle Camere di Commercio Italiane all'Estero. La Camera annovera una base associativa di circa 250 imprese, di origini sia italiane che americane. Alcuni dei marchi più rappresentativi del "Made in Italy" negli USA sono tra gli associati. I settori in cui operano i soci sono i più vari, dall'arredo-casa alla ristorazione, dalla meccanica alla logistica. Nel corso degli anni la IACCSE si è imposta come punto di riferimento per strutture camerali, organizzazioni fieristiche ed imprese italiane. Si è specializzata nell'organizzazione di eventi promozionali e missioni commerciali negli Stati Uniti così come nell'organizzazione di delegazioni di buyers americani in Italia. La sede della IACCSE è strategicamente ubicata a Miami, centro economico e commerciale delle Americhe, importantissimo polo d'attrazione per gli investitori interessati non solo al mercato statunitense ma anche a quello dell'America Latina e dei Caraibi quindi, piattaforma ideale per le sedi regionali di multinazionali impegnate in scambi commerciali e di affari con Nord, Sud e Centro America. La IACCSE ha inoltre una sezione distaccata a Charleston, in South Carolina, una a Atlanta, in Georgia ed uffici di rappresentanza a Milano, Roma e Bologna. Localmente la Camera lavora in stretta collaborazione con il Consolato Generale d'Italia e ICE Ufficio di Miami, per promuovere lo sviluppo degli scambi e l'accesso ai mercati italiano e statunitense in molti settori, inclusi la logistica, la nautica l'arredo, l'edilizia, l'agroalimentare. La Camera rappresenta un punto di prima assistenza ed orientamento per imprenditori interessati ad espandere la propria attività nel Sudest degli USA. Sono oltre un centinaio le richieste di informazioni e di assistenza di singole imprese che giungono annualmente ai nostri sportelli.

Clicca sull'immagine in basso per scaricare il depliant della IACCSE: