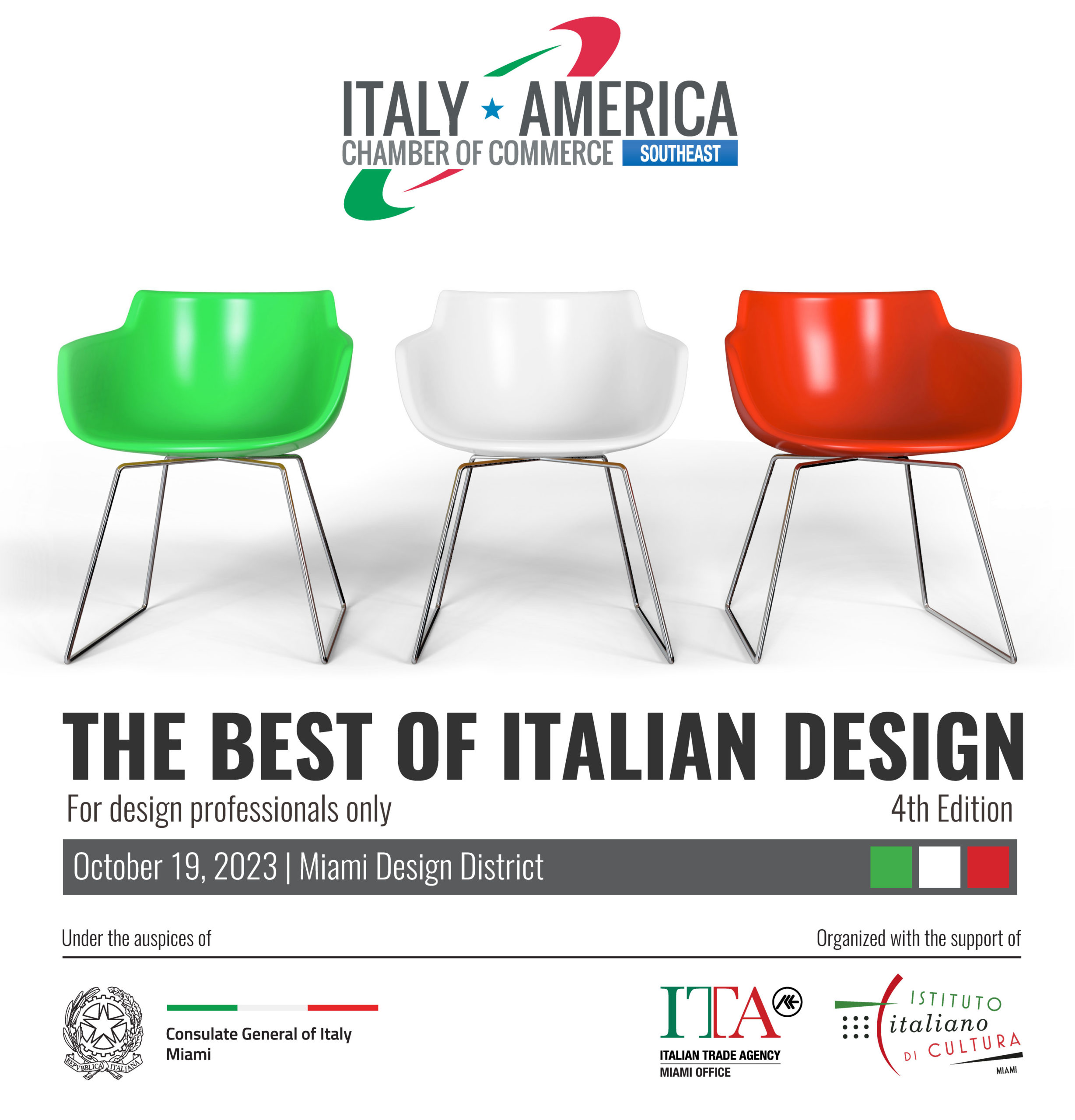 ---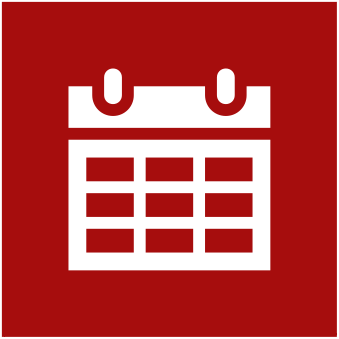 WHEN Thursday – October 19, 2023
---
WHERE 4141 Atrium (4141 NE 2nd Ave, Miami, FL 33137)
---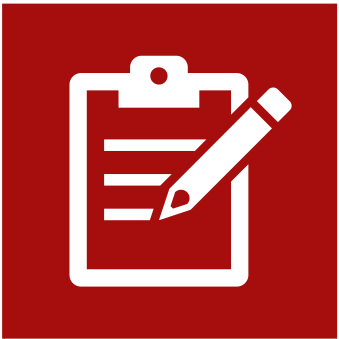 RSVP: DESIGN INDUSTRY PROFESSIONALS ONLY
(local industry professionals, architects, interior designers, general contractors, and developers)
---
The Best of Italian Design is a unique event dedicated to celebrating and displaying the most prestigious Italian brands and Made in Italy high-end products.
The event is created for those Italian design companies interested in meeting with local industry professionals, architects, interior designers, general contractors, and developers.
THE EVENT AT A GLANCE
The 4th edition of The Best of Italian Design includes:
THE TALKS – discover the newest trends in the industry, presented by renowned speakers.
FURNITURE DEALERS ROUND-TABLE – attend the discussion on the challenges and opportunities of the South Florida market.
BUSINESS MEETINGS – meet with Italian furniture manufacturers.
SHOWROOM EXPERIENCE – tour the Italian showrooms open for a synergic party to celebrate "Made in Italy" craftmanship.
COCKTAIL DESIGN NIGHT – industry professionals and exhibitors celebrate Italian excellence in design, networking informally, and tasting design-inspired cocktails.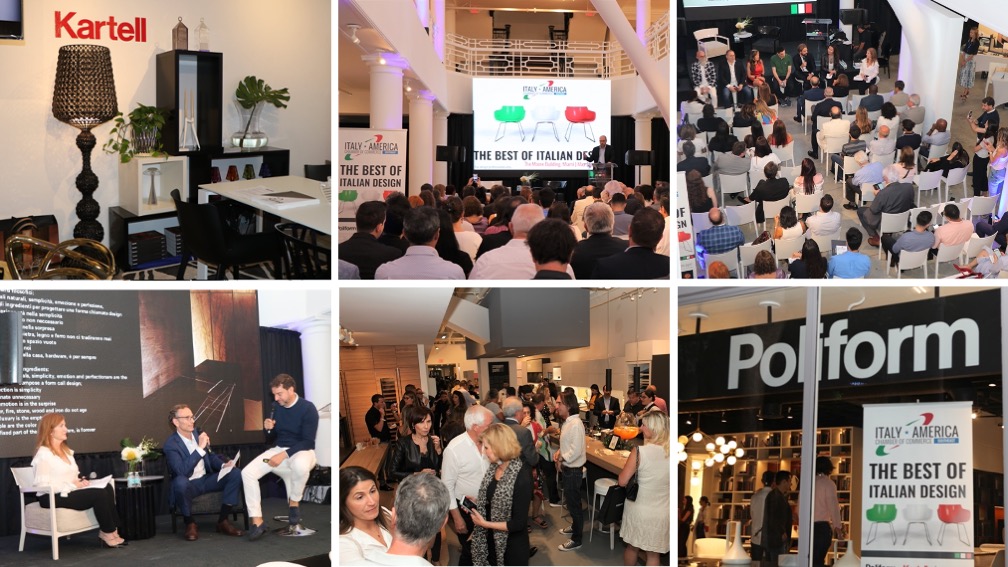 ---
EVENT PROGRAM
---
EXHIBITORS DIRECTORY
Click here for exhibitors' details.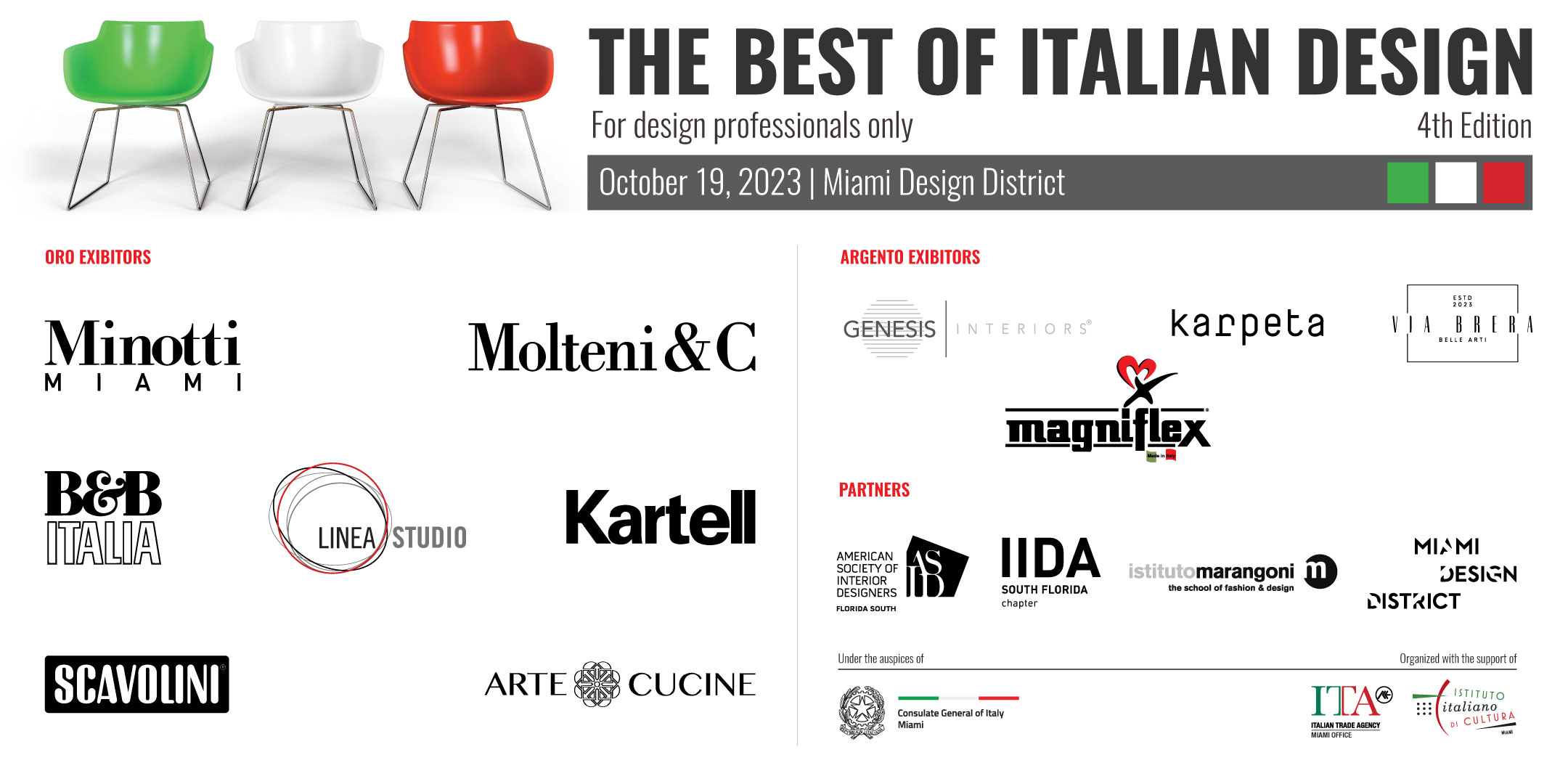 ---
VISITORS
IF YOU ARE AN ARCHITECT, AN INTERIOR DESIGNER,
A GENERAL CONTRACTOR OR A DEVELOPER

Limited capacity. Please, make sure to submit your registration form.
21+ TRADE ONLY EVENT | NO RSVP AT THE DOOR
For further information: rsvp@iacc-miami.com
Watch here the video of the 2022 edition of The Best of Italian Design:
Watch here the video testimonial from The Best of Italian Design 2019:

---
EXHIBITING OPPORTUNITIES
IF YOU ARE AN ITALIAN COMPANY INTERESTED IN TAKING PART IN THE EVENT NEXT YEAR (2024),
CHECK OUT THE EXHIBITORS' PACKAGE TO DISCOVER
THE DIFFERENT EXHIBITING LEVELS AVAILABLE
FOR FURTHER INFORMATION ON THE EXHIBITING OPPORTUNITIES CONTACT
ALESSIA MARCENARO, DEPUTY EXECUTIVE DIRECTOR MARKETING@IACC-MIAMI.COM
---
THE BEST OF ITALIAN DESIGN

Miami, 19 Ottobre 2023

Presentazione:

Nel 2022 l'export italiano verso gli USA ha registrato una forte crescita (+12,7%) rispetto al 2021, con un valore 69 miliardi di dollari, il miglior risultato di sempre.

In particolare, nel 2022, le esportazioni italiane di arredo ed edilizia negli Stati Uniti hanno raggiunto la cifra di 4 miliardi di dollari, con una crescita del +18% rispetto all'anno precedente, posizionando l'Italia al sesto posto tra i fornitori di arredo. In particolare, registrano crescite importanti i Mobili (+25%), le Sedie (+25%), il Vetro (+22,8%), l'Illuminazione (+16,1%) e le Ceramiche (+11,5%) (Fonte: ICE).

Per molti brand d'arredo Miami risulta ormai essere il primo mercato, superando sia New York che Los Angeles. Il mercato del real estate dell'area metropolitana di Miami è tra i più dinamici ed in crescita a livello mondiale. Il Miami Design District è il quartiere con la più alta concentrazione di showroom di arredo di alta gamma in tutti gli Stati Uniti. Miami rappresenta inoltre un punto di riferimento in ambito distributivo e logistico per l'America Latina.

È proprio per dare visibilità alle eccellenze del design italiano sull'importante piazza di Miami che la Italy-America Chamber of Commerce Southeast organizzerà, il prossimo 19 ottobre nello spazio 4141 Atrium nel cuore del Miami Design District, la quarta edizione dell'evento "The Best of Italian Design".

Circa 150 architetti, rivenditori e interior designer americani verranno invitati per una giornata di incontri B2B, seminari e networking con le imprese italiane.

Durante l'evento sono in programma discussioni stimolanti condotte da influenti protagonisti dell'industria dell'architettura e del design. Inoltre, i partecipanti avranno l'opportunità di partecipare a incontri B2B e ad una serata diffusa di networking organizzata in diversi showroom italiani all'interno del Miami Design District.

Il programma della quarta edizione del The Best of Italian Design si articolerà come segue:

* Sessione B2B: apertura area expo e incontri tra espositori e visitatori professionali

* Seminari: incontri sul settore arredo design nel Sud della Florida

* Networking Cocktail: una serata diffusa tra gli showroom italiani di design del Miami Design District per continuare gli incontri tra operatori in compagnia di cocktail a base di liquori italiani.

Per maggiori informazioni sull'evento ed iscrizioni:

Le aziende italiane interessate a partecipare come espositori possono anche contattare la nostra Camera di Commercio all'indirizzo: marketing@iacc-miami.com

Ente organizzatore:

L'Italy-America Chamber of Commerce Southeast (IACCSE) con sede a Miami è una organizzazione statunitense senza scopo di lucro, ufficialmente riconosciuta dal governo italiano, che si dedica alla promozione del commercio tra gli Stati Uniti e l'Italia. Fondata nel 1991, la IACCSE fa parte di Assocamerestero, l'associazione delle Camere di Commercio Italiane all'Estero. La Camera annovera una base associativa di circa 250 imprese, di origini sia italiane che americane. Alcuni dei marchi più rappresentativi del "Made in Italy" negli USA sono tra gli associati. I settori in cui operano i soci sono i più vari, dall'arredo-casa alla ristorazione, dalla meccanica alla logistica.