WHEN  Wednesday –  June 1, 2022

WHERE  The Sacred Space Miami (105 NE 24th St, Miami, FL 33137)
T

HE EVEN

T
Authentic Italian is the only high-end Food & Wine Festival in Miami which mainly focuses on Italian cuisine and flavors. It aims to connect Italian F&B producers, F&B importers and distributors representing Italian brands, and hospitality suppliers with local chefs, restaurateurs, hospitality professionals, importers, and distributors.
The event also enriches the understanding and appreciation of Italian culture by promoting the country's food and wine to a selected public of food lovers, through partnerships with authentic Italian restaurants, bakeries and gourmet markets that will delight the public with their signature dishes.
The Authentic Italian Food & Wine Festival is divided in two sessions:
3:00pm-6:00pm | B2B SESSION

FOR F&B PROFESSIONALS ONLY
Festival pre-opening for business-oriented activities
Including
B2B Meetings among exhibitors and professionals of the hospitality industry, cruise industry, and importers and distributors.
Talks led by profiled representatives of large-scale retail trade
Executive Wine Tasting: producers presents their labels to 10 top representatives of the local hospitality industry (hotel and restaurant chains, cruise industry)
Festival Opening Ceremony and VIP Networking Cocktail with the participation of representatives of the Consulate General in Miami, the Italian Trade Agency, and local authorities
6:00pm-8:30pm | GRAND TASTING

FOR A SELECTED PUBLIC OF FOOD LOVERS
A feast for the senses. The best and true Italian food & wine in Miami. Guest will be able to enjoy live music, while tasting the best selection of genuine Italian pasta, cheese, cold cuts, pizza, gelato, wine and cocktails.
Including
Gourmet Experiences
Masterclasses organized in private rooms in co-branding with F&B Italian producers and local restaurateurs to learn more about the traditional ingredients of Italian cuisine (Gourmet Experiences program will be published soon).
INDUSTRY PROFESSIONAL REGISTRATION
IF YOU ARE A PROFESSIONAL OF THE HOSPITALITY INDUSTRY
(RESTAURANT OWNERS, CHEFS, BEVERAGE MANAGERS, BUYERS AT HOTELS AND RESTAURANTS CHAINS)
CRUISE INDUSTRY, F&B IMPORTERS AND DISTRIBUTORS,

Important note: industry professionals are guaranteed complimentary entrance
to the event upon arrival before 5:00 pm
GENERAL PUBLIC REGISTRATION
IF YOU ARE A FOOD LOVER
PASSIONATE ABOUT ITALIAN FOOD AND WINE,

TICKET: $ 32 / per person
No tickets sold at the entrance.
Click here for exhibitors' details.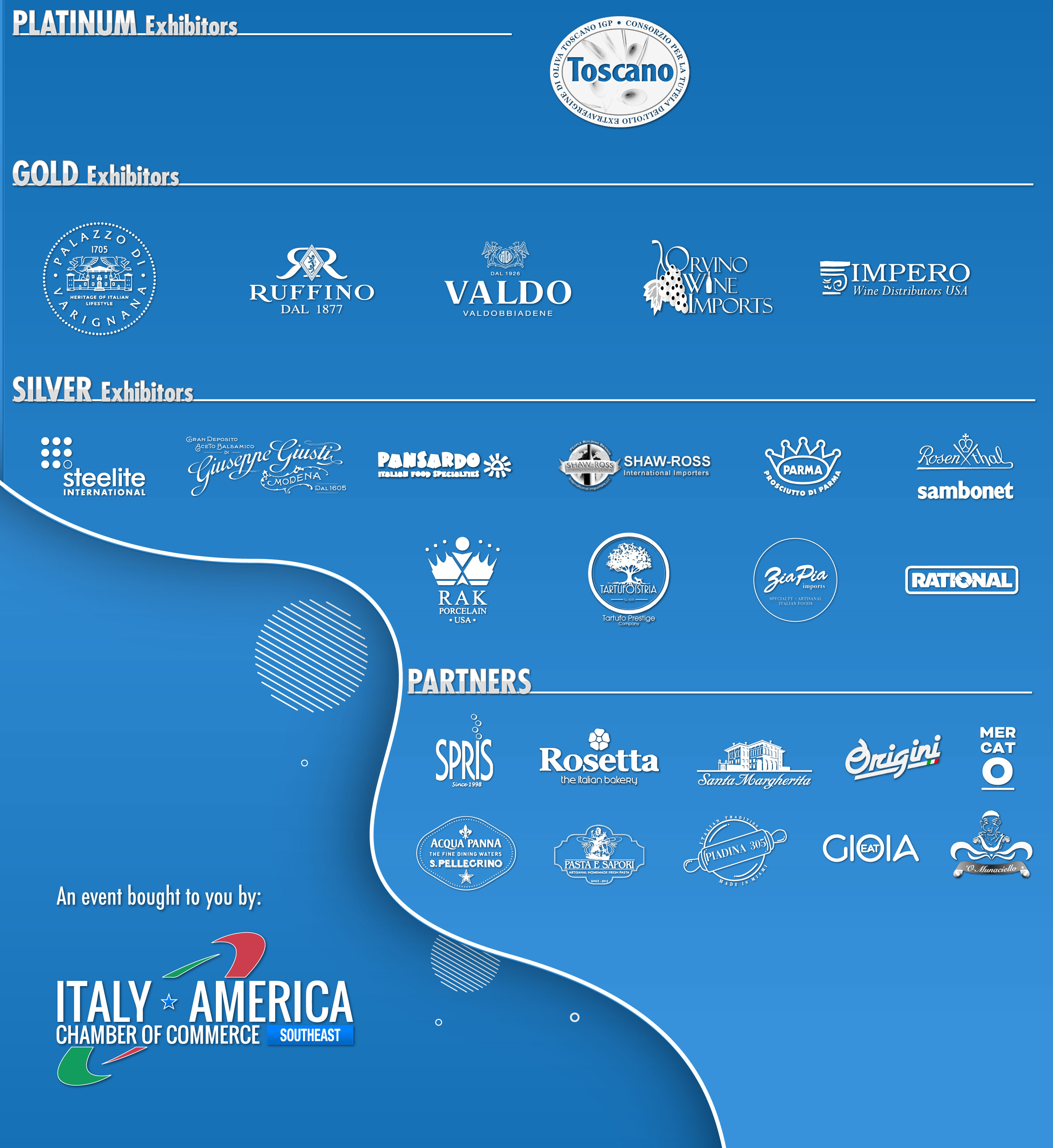 Watch here the recap of the 2019 Authentic Italian event:
BE SAFE, DON'T DRINK AND DRIVE!
We strongly encourage attendees to use Uber or Lyft to reach the venue.
This is a 21+ only event.