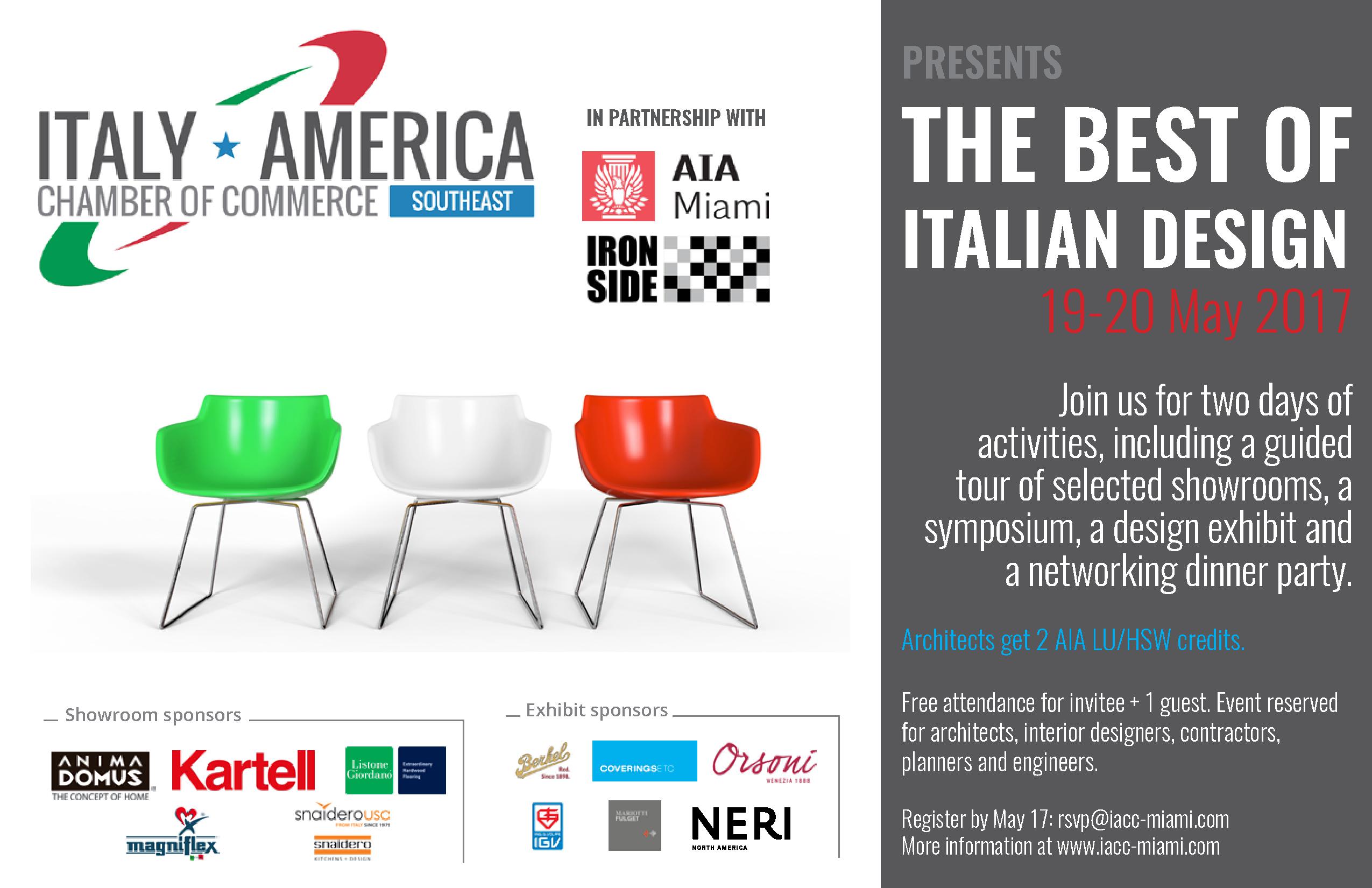 On May 19 and 20 2017 a special event entirely dedicated to the interior design professionals, "The Best of Italian Design", will be held at Miami Ironside.
It is addressed to a target of 300+ architects and interior designers, members of the American Institute of Architects (AIA) and the American Society of Interior Designers (ASID) in South Florida.
The first day of the event will be on May 19, and it will see a guided Tour through the Showrooms to discover the Italian design innovation in Miami.
Previews and in-depth analyses will be presented by the showrooms managers and directors. The Showrooms will host co-branding initiatives -coordinated by IACC- with Italian artists, designers and food and wine producers.
The second day, on May 20, a Symposium will be lead by Italian Architects and Interior Designers and it will be followed by "The Best of Italian Design Exhibit", where visionary minds meet the Italian artisans' heritage.
In the evening, an Italian style dinner will be served. During the dinner, the Italy-America Chamber of Commerce will recognize The Best of Italian Design Award and honor the innovators that greatly contribute to bring the Italian design and excellence in the US.
"The Best of Italian Design" is aimed to build a deeper network of American and Italian designers, with many B2B sessions and a lot of interesting activities.
The Best of Italian Design Program
DAY 1: FRIDAY  MAY 19
4:00 pm – 9:00 pm
SHOWROOM GUIDED TOUR EXPERIENCE – Enjoy the best of Italian design innovation paired with Italian food and wine tasting.
Route: ANIMA DOMUS | MAGNIFLEX | KARTELL | LISTONE GIORDANO | SNAIDERO.
DAY 2: SATURDAY  MAY 20
at IRONSIDE, 7610 NE 4th Ct, Miami, FL 33138
10:00 am – 10:45 am
NETWORKING BREAKFAST & REGISTRATION
10:45 am – 12:45 pm
SYMPOSIUM
THE INFLUENCE OF ITALIAN DESIGN IN LUXURY REAL ESTATE: FROM INDUSTRIAL DESIGN TO INTERIOR DESIGN, by PAOLO TREVISAN – Head of Design, Pininfarina of America (Torino, Miami)
THE "ITALIAN WAY" TO THE PROJECT: DESIGN AND ARCHITECTURE FROM CONTEMPORARY MASTERS TO NEW WORKS. FOCUS ON HOSPITALITY  DESIGN by ELISABETTA RIPAMONTI – Partner, Signo (Milano)
THE POWER OF LIGHT: ENHANCING THE PERCEPTION OF SPACES by DODO ARSLAN  – Founder and Designer, Dodo Arslan | Studio (Milano, Miami)
NETWORKING LIGHT LUNCH
2:00 pm – 6:00 pm
EXHIBIT | LECTURES | ONE TO ONE MEETINGS
6:00 pm – 9:00 pm
NETWORKING COCKTAIL | DINNER PARTY | INSTITUTIONAL SPEECHES
 Download here the complete Program of the Event: