The IACCSE is promoting its signature events that will be organized during the year 2022. These event formats have been developed by our Chamber and have become along the years very popular annual gatherings of the Italian and American business community in the Southeast of the United States.
These signature events include The MEET US Roadshow in Italy, The Italian Food & Wine Festival, The Best of Italian Design, and The Italian Business Community Night.
By participating as an exhibitor or sponsor and co-branding your company with successful business events, you can reach a specific target of entrepreneurs and professionals.
To know more about the IACCSE signature events, click here: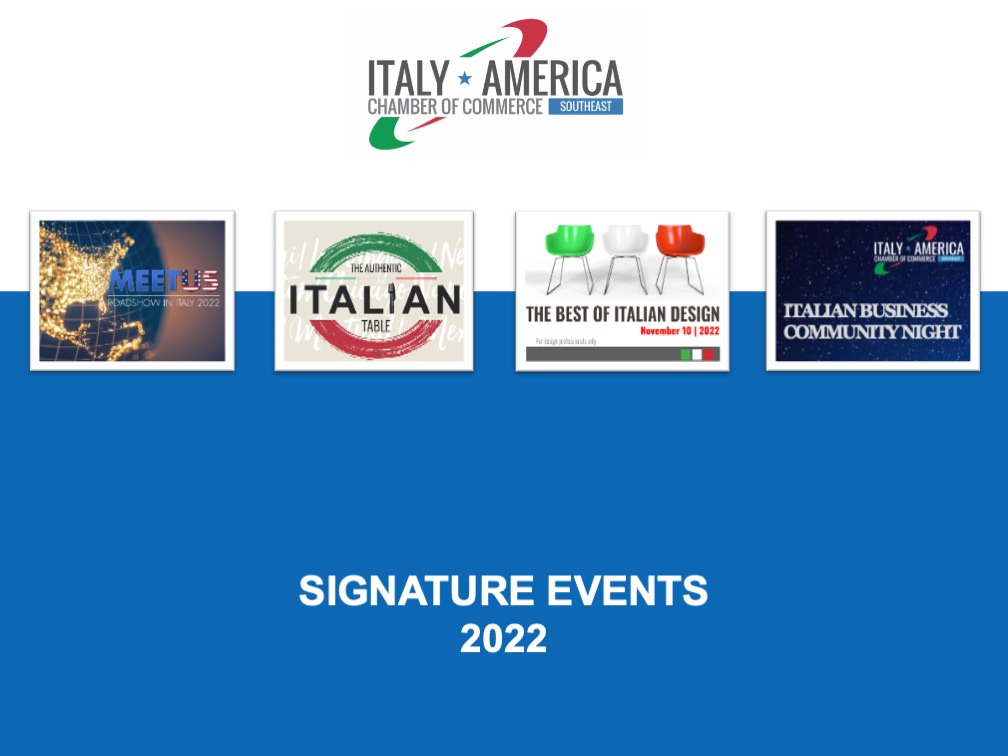 Discover how to participate as sponsor and exhibitor to the most successful Italian Chamber's events.
Click on the buttons below to discover the sponsorship opportunities available for each signature event.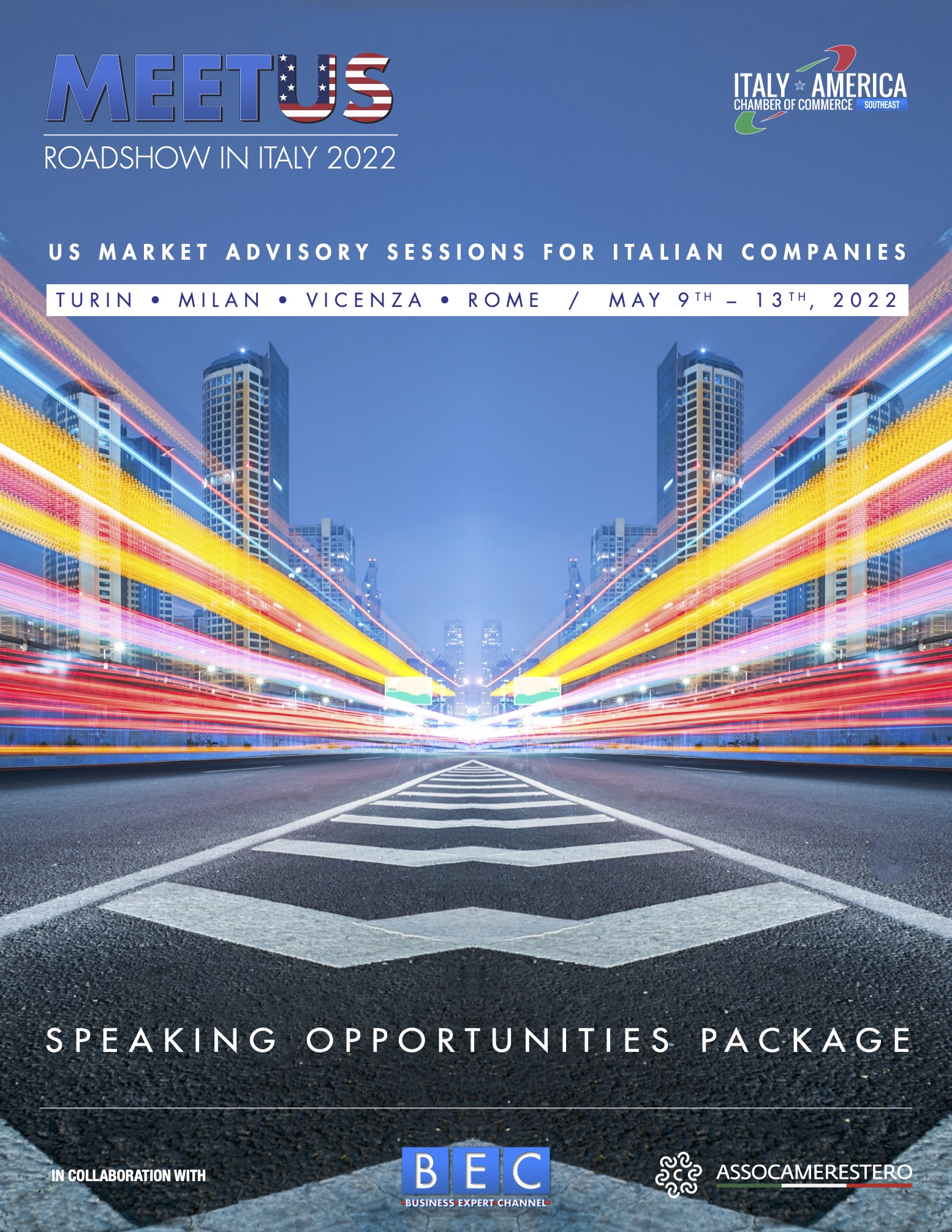 MEET US ROADSHOW IN ITALY
MAY 9-13, 2022
Four days, four different Italian cities (Turin, Milan, Vicenza, Rome), four conferences to inform and support all those Italian companies interested in exploring new business opportunities in the USA while taking advantage of the experience of the IACCSE and selected speakers.
Target
: 200 Italian entrepreneurs and managers interested in doing business in the USA.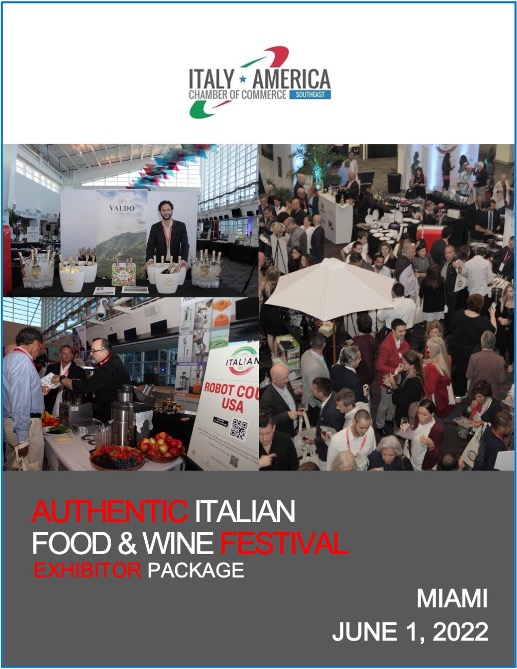 THE AUTHENTIC ITALIAN

FOOD & WINE FESTIVAL
JUNE 1, 2022
The only high-end Food & Wine Festival in Miami which mainly focus on authentic Italian products. The first part of the event is dedicated to business meetings between Italian F&B producers and industry professionals (chefs, retailers, distributors and hospitality industry buyers)and it includes talks lead by representatives of large-scale retail trade, an Executive Wine Tasting and the Festival Opening Ceremony with local authorities. The second part will be open to a selected public of food lovers and includes a Grand Tasting and Gourmet Experiences.

Target
: 1,000 attendees among F&B industry professionals, food bloggers and journalists, food lovers.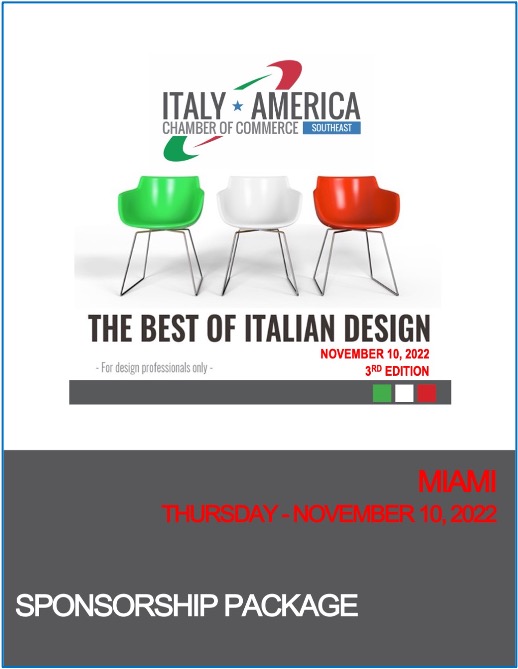 THE BEST OF ITALIAN DESIGN
NOVEMBER 10, 2022
The event is dedicated to those Italian companies interested in meeting with architects, interior designers, general contractors, and developers of South Florida. The event will include talks with renowned speakers, furniture dealers roundtable, business meetings, networking cocktail, Showroom Experience & Food Design Night.
Target: 150+ local professionals: architects, interior designers, general contractors, and developers.

THE ITALIAN BUSINESS COMMUNITY NIGHT
DECEMBER 8, 2022
The Italian Business Community Night celebrates the excellence of the Made in Italy. The event includes a Networking Cocktail with exhibitors' area for products showcasing, keynote speaker' s talks on new business trends in the Southeast, a four-course gala dinner menu with Italian iconic products, and much more!
Target: 300 local and Italian entrepreneurs and manager, local authorities, local media