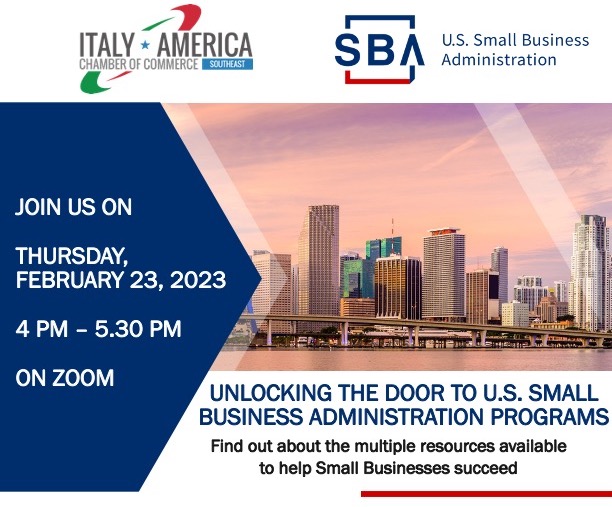 The IACCSE, in collaboration with the U.S. Small Business Administration, will organize a webinar live on Zoom entitled "Unlocking the door to U.S. Small Business Administration Programs" on Thursday, February 23rd at 4 pm.
This webinar aims to reach out to businesses of our Italian-American community with fewer than 100 employees, to inform them about the programs that the SBA offers to them such as access financing for Exports and through commercial banks, and certifications to do business with the Federal Government.
The Chamber will be hosting Sandro Murtas, CGCE, CICP, CGBP, Lead Export Finance Manager of the U.S. Small Business Administration Office of International Trade in Miami, as well as some representatives of banking and financial institutions through which SBA programs can be accessed.
If you are interested, do not miss this opportunity to get your questions answered and find out more about the multiple resources available to help small businesses succeed.
Registration within Tuesday, February 21st:
IACCSE MEMBERS – free of charge
NON-MEMBERS – $ 20