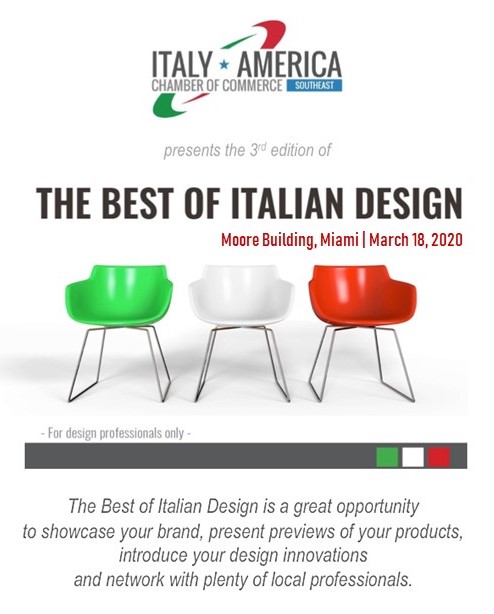 The event is aimed to celebrate the best of Italian design and is intended to be a prestigious display for Italian brands and high-end Made in Italy products.
The exclusive Miami Design District will be the location of the event that will take place on March 18, 2020.
The initiative, addressed to Italian design companies that want to introduce their products to a wide range of local industry professionals (architects, interior designers, buyers and contractors), represents a unique opportunity to gain visibility and to approach the US market with the advantageous support of the IACC Miami.
Discover here the early bird sponsorship package (different sponsorship levels are available):
Watch here the video of the past edition of The Best of Italian Design 2019:
For further info please contact Alessia Marcenaro – Deputy Executive Director at marketing@iacc-miami.com
If you are an architect, an interior designer, a general contractor or a developer,
contact us at marketingspecialist@iacc-miami.com
to receive more information on how to request a complimentary invitation.