DO NOT MISS THE OPPORTUNITY TO ENJOY AND LEARN ABOUT TRUE ITALIAN FOOD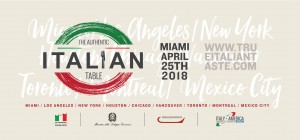 Coral Gables Country Club on Wednesday April 25th, 2018. 
40+ Italian Restaurants and gourmet food & wine Importers will display their products and their chefs skills with great exhibitions and tastings throughout the night.
Chefs will prepare their signature small dishes, following authentic Italian regional recipes and peculiarities.
It will be an high-end Italian food & wine festival, for 100+ industry leaders, journalists, influencers and for a selected group of 500+ foodies.
Guests will enjoy music and wine and complementary bites of the best selection of genuine Italian pasta, cheese, cold cuts, pizza and gelato.
During the event, guests will have the opportunity to participate to seminars/gourmet experiences to gain a deeper knowledge of the most important Italian ingredients.
Tickets are $38 per person and are available at https://www.eventbrite.com/e/the-authentic-italian-table-tickets-44304736660
PROGRAM:
INDUSTRY SEMINARS, GRAND TASTING, PROMOTIONAL INITIATIVES, EDUCATIONAL PANELS FOR CONSUMERS
3.30 pm – 5.00 pm: PANEL "Consumption trends of authentic Italian food in Florida" (for industry only) 
Welcome remarks by Tommaso Cardana, President of Italy-America Chamber of Commerce Southeast and Hon. Gloria Bellelli, Consul General of Italy 
Moderator:
Lyn Farmer
James Beard Award-winning wine and food writer, broadcaster and arts educator. He is the author of the Engaging the Senses blog
Panelists: 
Evan Benn (Editor in Chief, Indulge Magazine), "Authenticity is the new black and Italian Food is part of the trend" 
Sarah Nagel (Director- Client Development, Park Street Companies), "Italian Wine perception among millennials"
Victoria Pesce Elliot (Restaurant Critic, The Miami Herald), "How the Miami's restaurant scene is evolving"
Alejandra Cangas (Editor, The Hungry Post), "The impact of social media on local foodies choices"
Jacopo Giustiniani (Managing Partner, La Centrale Italian Food Hall), "Food is culture and consumers are looking for an immersive experience"
5.00 pm: NETWORKING COCKTAIL for F&B professionals (for industry only)
6.00 pm: ITALIAN GRAND TASTING (open to the public)
A Gourmet experience. A feast for the senses. The best and true Italian food & wine you can find in Florida.
During the event you can participate to our Gourmet Experiences and taste and learn a lot about the traditional ingredients of Italian cuisine. 
Gourmet Experiences Program
6.00 pm: "Black Truffle Festival" (for industry only)
Presented by Urbani Truffles and Grana Padano
Speakers: Vittorio Giordano (Urbani Truffle); Lou Di Palo (Di Palo Fine Foods New York); Chef Carlo Donadoni (Spuntino Catering Miami)
6.30 pm: "Artisan cured meats tasting" (open to the public)
Presented by Tomson Hospitality Boutique and Toscana Divino
Speakers: Tommaso Cardana (Tomson Hospitality Boutique); Tommaso Morelato and Chef Andrea Marchesin (Toscana Divino)
7.00 pm: "Italian Cheese Tasting and Jam pairing" (open to the public)
Presented by Botteghe d'Italia
Speaker: Lorenza Robicci (Botteghe d'Italia)
7.30 pm: "Genuine flavors from the Southern region of Apulia" (open to the public)
Presented by Flora Fine Foods
Speaker: John Flora (Flora Fine Foods)
8.00 pm: "Italian Aperitivo and Wine Pairing" (open to the public)
Presented by Baldassare Agnelli USA and Cibo Wine Bar
Speakers: Paulina Arango (Sommelier for Cibo Wine Bar South Beach and Coral Gables)
8.30 pm: "Wine Meditation" (open to the public)
Presented by Strahl and Emporium Nostrum
Speaker: Theo Von Ungern-Sternberg (Strahl); Danielle Liagi (Emporium Nostrum)
10.00 pm: CLOSING CEREMONY
The event is promoted by the Italian Government 
and is part of the Extraordinary Italian Taste campaign, 
aimed to raise awareness among North American consumers about authentic Italian products.
For F&B Industry Professional, complimentary invitation for 2 representatives per company.
Please RSVP to
rsvp@iaccse.com
specifying the name, title and company of each guest by April 18th.
Please note that to benefit of the invitations, industry leaders must check-in by 5.00pm at the Coral gables Country Club.
GENERAL ADMISSION (6 – 10 PM). Buy your tickets on Eventbrite https://www.eventbrite.com/e/the-authentic-italian-table-tickets-44304736660. 
Organized by:

Under the auspices of:

MAIN PARTNERS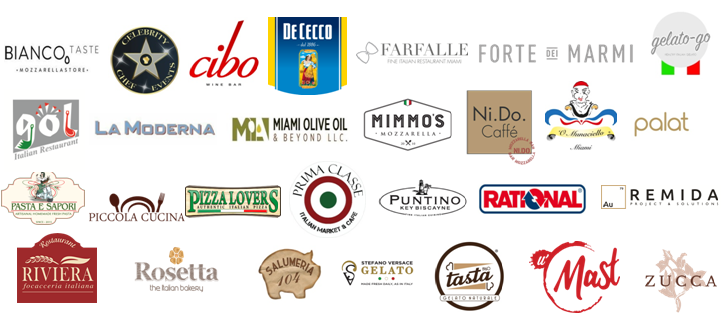 BEVERAGE PARTNERS