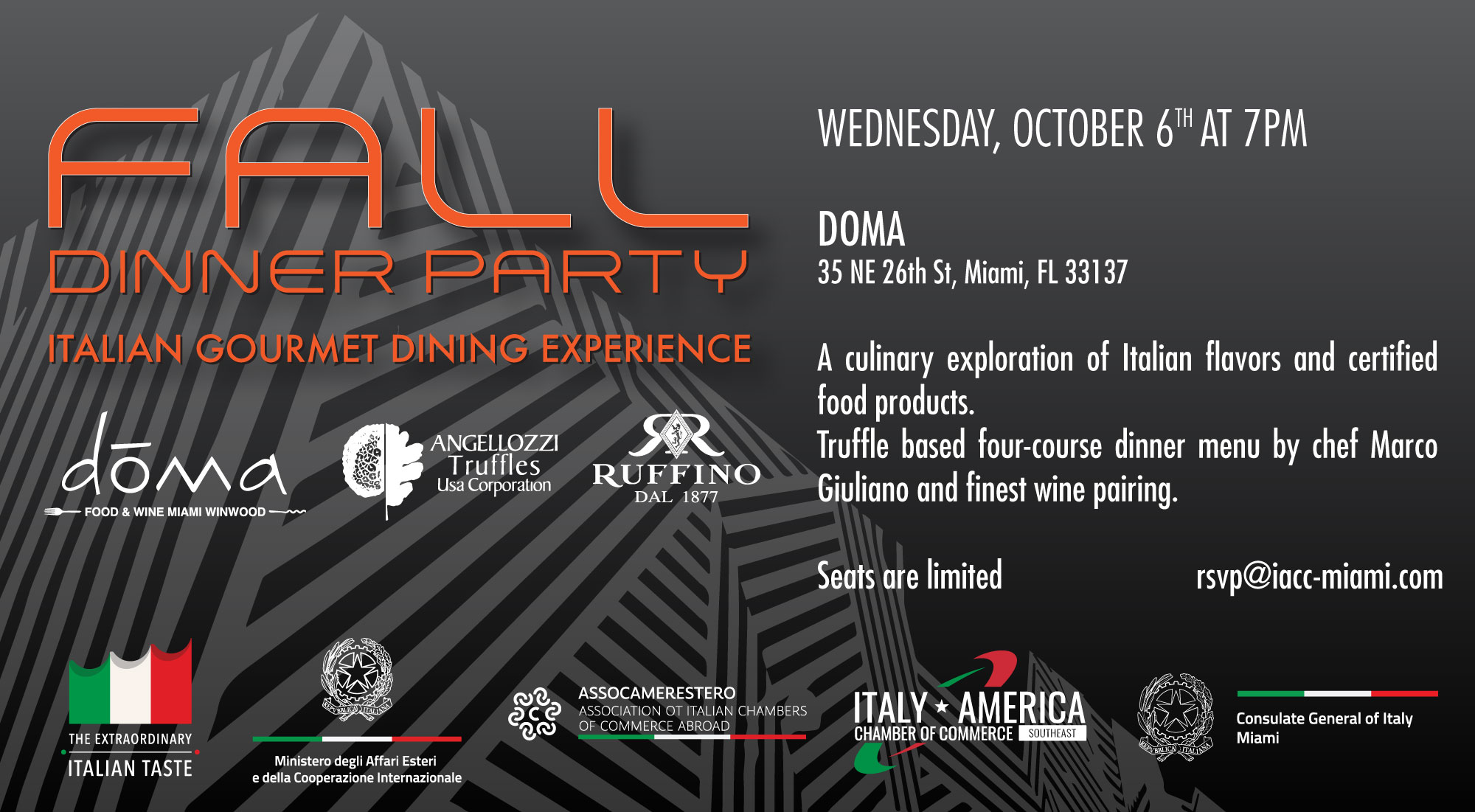 On October 6th, the Italy-America Chamber of Commerce Southeast presented a new culinary masterclass on Italian certified food products, and especially on one of the protagonists of Italian tables during the fall season: the black truffle.
This masterclass was part of the 'Extraordinary Italian Taste' campaign, endorsed by the Italian Ministry of Foreign Affairs and Assocamerestero, with the aim of promoting authentic Italian products in the US market
A selected group of journalists, bloggers, F&B importers and hospitality leaders attended the event at Dōma Restaurant in Miami.
Chef Marco Giuliano talked about his cuisine style using PDO (Protected Denomination of Origin) and PGI (Protected Geographical Indication). Attendees had the opportunity to learn more about the history, the culture and the nutritional aspects of a few signature Italian products very popular during the fall season.
After the masterclass our guests from the food & beverage industry and the local press had the opportunity to taste a four-course menu prepared by Chef Giuliano, including fresh truffles courtesy of Angellozzi Truffles and a guided wine pairing courtesy of Ruffino.
Finally, thanks to the collaboration with Dōma, Ruffino and Angellozzi Truffles, this four-course gourmet experience could be open also to a small group of local food lovers.
Find here the four-course dinner menu: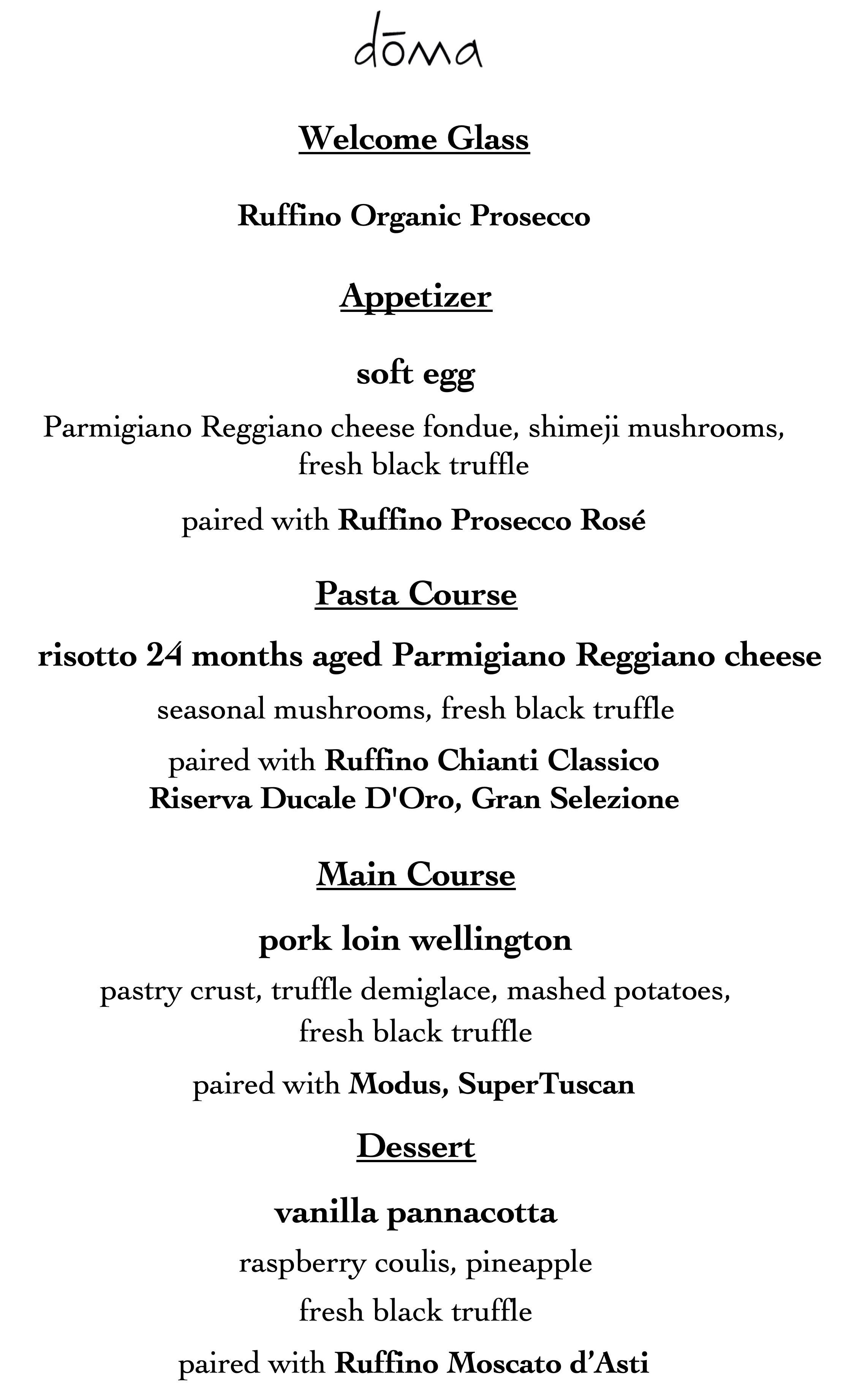 OUR PARTNERS: 
RUFFINO (www.ruffino.com) 
Ruffino is a multifaceted business centered on the production of quality Italian wines, whose mission incorporates the key requirements of contemporary agriculture.
A company with over one hundred years of history inseparable to Tuscany and deeply attached to Italy, Ruffino today is the result of unparalleled business experience, agricultural wisdom, varied and extensive production expertise, and a modern organization consisting of stratified roles required for competition in a highly competitive sector and strongly linked to the local area.
An established producer of top Tuscan wines, which continues to provide the basis of its popularity, more recently the company extended its vision beyond these historic Tuscan estates with wines that achieve their highest expression in Veneto, whose terrain is especially suited to the production of quality Prosecco and white wines.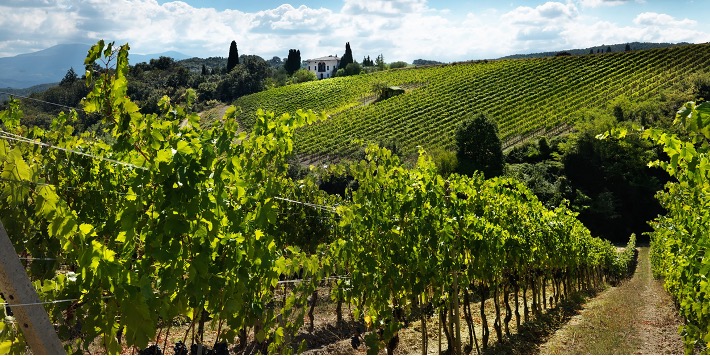 ANGELLOZZI TRUFFLES (www.angellozzi.it/en)
Angellozzi Truffles USA Corporation is based in Manhattan, New York City. It is a distributor of Angellozzi Tartuficoltura's fresh and frozen truffles and in truffles brine in the United States. Angellozzi Tartuficoltura is a family of five generations of truffle "hunters". The company is located in Roccafluvione, province of Ascoli Piceno in the Marche region, and cultivates the three best Italian truffle-species (i.e. Tuber magnatum Pico, Tuber melanosporum Vittadini, Tuber aestivum Vittadini). During several years of research, the Angellozzi family has selected and reproduced the best local ecotypes of white, winter black, and summer black truffles.
After harvesting, every single truffle intended for sale undergoes a number of very strict checks of all aesthetic-qualitative parameters, which ensure very high quality of all truffles sold. This aspect is a key of success for Angellozzi in international competition, confirming once again the prestige of products "Made in Italy".
Frozen Truffles are the recent alternative to fresh truffles and in order to meet a growing demand for frozen truffles, Angellozzi Tartuficoltura has created a line of frozen truffles available in different sizes.
DŌMA RESTAURANT (www.domawynwood.com)
Located in the beautiful Wynwood art district of Miami, dōma is a neighbourhood restaurant featuring Mediterranean inspired, Southern Italian cuisine. The Doma team brings their heritage from Italy and designed a contemporary menu that includes a number of classic Italian dishes as well as more modern selections.