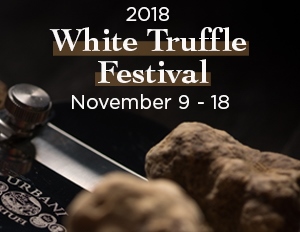 Prunotto, one of the oldest and most prominent wineries in Piedmont, Italy, and IACCSE member Urbani Truffles, the leading global purveyor of fresh truffles, are proud to announce the highly anticipated 2018 White Truffle Festival, taking place November 9-18.
Expanding on last year's White Truffle Festival, Prunotto and Urbani Truffles have joined forces to bring this monumental event to the US for the third year in a row by offering pairing menus at high-end restaurants in select U.S. cities. Participating restaurants will receive special training, tools, and promotional support to enhance their truffle based options and related wine pairings.
Select restaurants in New York, Miami, Houston, Las Vegas and San Francisco, plus Boston and Denver, new for 2018, will participate in the festival, allowing wine and culinary enthusiasts to indulge in decadent, truffle-based dishes at the country's most esteemed Italian restaurants.
The 2018 White Truffle Festival aims to bring the world-famous celebration of the Fiera Internazionale del Tartufo Bianco di Alba to the US — marrying two of the most luxurious culinary exports of Piedmont: Alba white truffles and red wines. For this special week, restaurants will be presenting exclusive menus and dishes showcasing Alba white truffles from Urbani Truffles, paired with wines from Prunotto, including Barolo and Barbaresco, whose vines grow in the same areas where the white truffles are found. Specialty dishes will be prepared and paired expertly with the Prunotto wines by prominent chefs and restaurateurs around the country.
A full list of participating restaurants by city is available here: www.whitetrufflefestival.com. Diners can contact the restaurants directly for reservations.
For more information about the exceptional portfolio of Prunotto wines, interviews with estate manager, Emanuele Baldi are available upon request. Please also visit www.prunotto.it
For more information about Urbani Truffles, please visit: www.urbani.com.