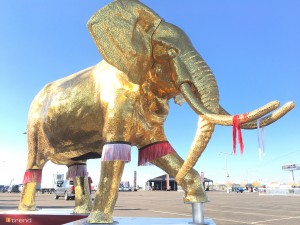 Florida-based Trend Group, the world's leading producers of glass mosaic, gold mosaic and Venetian enamel and its sister company Granite Transformations sponsored the 2016 College Football Playoff National Championship Tailgate at the University of Phoenix by displaying Pam, a magnificent life-size gold mosaic elephant in front of the Stadium. Pam stood in support of the Alabama Crimson Tide, whose mascot "Big Al," is an elephant. Valued at $150,000, the stunning figure took 12 mosaic artists more than a year to create. Pam weighs 2,710 lbs. and measures 7 ft. wide, 16 ft. high and 27 ft. long. Pam became a social media star in the days building up to the game, as fans from all over the country posted their selfies and photos on twitter and facebook with the tag #AlabamaPAM.
Founded in 2000 in Vicenza, Italy, Trend is more than just a mosaic producer. At the company's heart lie the finest Italian traditions of glass-making and style coupled with the innovative and creative spirit of today's most celebrated designers, architects and artists. Trend's headquarters for the United States is located in Miramar, Florida. More at http://www.trend-group.com/.
Trend's sister company Granite Transformations is a global full-service home and business remodeling franchise, offering a wide selection of luxurious yet affordable alternatives to traditional countertops, mosaic tile backsplashes, cabinets and floors. Granite Transformations' unique resurfacing process involves fitting countertops directly over existing ones. More at http://www.granitetransformations.com/.