Special Celebratory issue: 
"The Best of Made in Italy in America"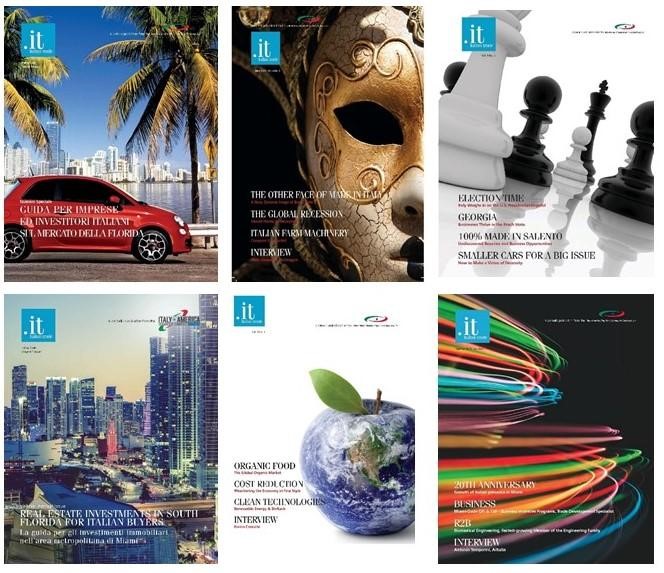 The Italy-America Chamber of Commerce (IACC) is pleased to announce the publication, in October 2016, of "The Best of Made in Italy in America", a 120 pages' magazine celebrating the best of Italian style and creativity, and its influence over the American lifestyle, featuring interviews with protagonists of economy, culture, and politics.
This .it special edition will be launched on the occasion of "The Best of Italy Gala Night", the amazing event organized by the IACC to celebrate its 25th anniversary on Saturday, October 22nd, 2016.
The Magazine will be published in English and Italian.

3,000 copies will be printed and distributed for free throughout our network, including the Consulate General of Italy, law firms, CPA firms, restaurants and cultural associations. It will be also available for free downloading at the IACC website (more than 1,700 unique visitors per month).
Promote your business and be part of this special edition of .it magazine for the 25th anniversary of the Chamber.
Advertising spaces are available at the following rates:
ADVERTISING RATES
| | |
| --- | --- |
| Back Cover | $ 3,100 |
| Inside Front Cover | $ 2,400 |
| Inside Back Cover | $ 2,000 |
| Two Page Spread | $ 2,800 |
| Full Page | $ 1,600 |
| Half Page | $ 1,000 |
IACC members will receive a 20% discount fee as recognition for their invaluable support to the Chamber´s mission.
SPECIAL PACKAGE:  Advertising + Gala Dinner
Non-Members: Full Page + 2 Gala Tickets $2,100 (instead of $2,400*)
IACC Members: Full Page + 2 Gala Tickets $1,800 (instead of $1,980*)
*Ticket Price: Non-Members $400 I IACC Members $350
Deadline to send artworks and payments is August 19th, 2016.
PLEASE SEE THE MEDIA KIT HERE.
For further information please contact us at info@iaccse.com or call us at 305-577-9868