Gallotti&Radice consolidates its position on the international market with a new temporary flagship store, located in the heart of Miami Design District.
Miami and its atmosphere become the perfect home for Gallotti&Radice lifestyle collection.The Italian company is excited to showcase in Miami Design District its large selection of made in Italy luxury products to designers and design lovers.Founded in 1955 by Pierangelo Gallotti and Luigi Radice, Gallotti&Radice was the very first company to experiment with glass crystal in furniture production.
Today, staying true to their heritage, the second generation family run business combines glass crystal with metal, marble and fine wood in order to create elegant and elaborated lifestyle solutions. An exclusive concept, characterized by essential lines and precious materials, reflects the distinctive style and aesthetic of the brand.
Gallotti&Radice designs, creates, transforms and produces solely and fully in Italy. The end products demonstrate excellence, quality of details, finishes and forms. In the flagship store, visitors can find the best pieces of the company collections in a warm, charming atmosphere.
Arranged over a 150msq, Gallotti&Radice Miami showroom displays a curated selection of a contemporary living, dining and home office settings characterized by natural materials, soft color schemes and minimal lines. The collection exudes quality craftmanship with an emphasis on traditional handcrafted techniques and on-of-a-kind finishes and materials.
The ability to combine innovation and tradition, allows Gallotti&Radice to maintain a level of exclusivity and personalization for those seeking a unique and elegant lifestyle experience in Miami.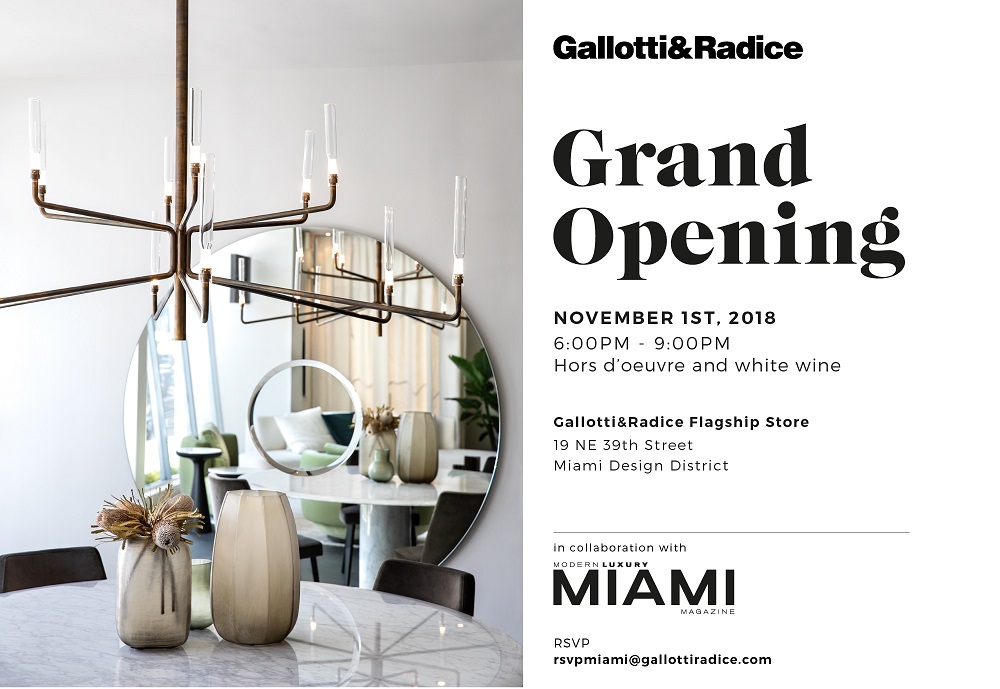 RSVP for the Grand Opening Event at: rsvpmiami@gallottiradice.com
For more information visit their website: www.gallottiradice.com/en-us/miami