The Consul General of Italy Gloria Bellelli undertook a series of diplomatic missions in the wide area covered by the Consulate General. Among the states she visited: Alabama, Georgia, South Carolina and Bahamas. Jamaica and Puerto Rico are scheduled as future destinations.
During the missions Ms. Bellelli had the chance to meet up and share thoughts with members of institutions and economic promotion bodies such as the states' governors and representatives of local Chambers of Commerce.
The Consul General warmly invites all Italian companies which may be interested in investing in these territories to contact the Consulate and to take part to these missions.
A calendar of visits for 2017 has already been planned to be arranged, with the aim of involving the highest amount of Italian companies possible and to put these in contact with the most representative institutional bodies and entrepreneurial associations of the future visited states.
The Italy-America Chamber of Commerce is fully committed to cooperate with and support the Consulate General in implementing these exploration missions.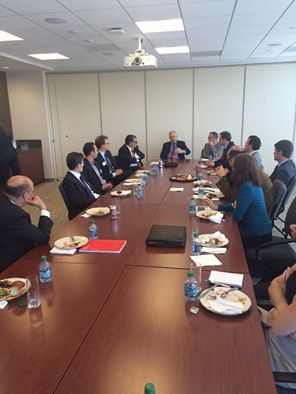 Shoot from the meeting in Atlanta of March 17th with Italian business leaders with the objective to explore ways to foster the cooperation between the Italian community of Georgia and the Italy-America Chamber of Commerce.