"Real Estate Investments in South Florida for Italian Buyers" a 100 pages guide targeting Italian investors in the US will be published on January 2016.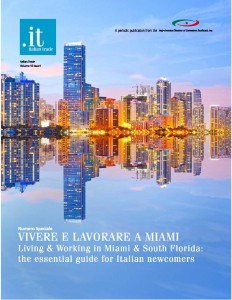 The guide will feature articles in English and Italian as a special edition of our catchy and contemporary .it Italian Trade Magazine.  
3,000 copies will be printed and distributed for free throughout our network, including the Consulate General of Italy, law firms, CPA firms and cultural associations. It will be also available for free downloading at the IACC website (more than 1,500 unique visitors per month).
Do not miss this opportunity! Contact now the Italy-America Chamber of Commerce to reserve your ad space. Only few days left to reserve your advertising space.
Please see the Media kit for further information here