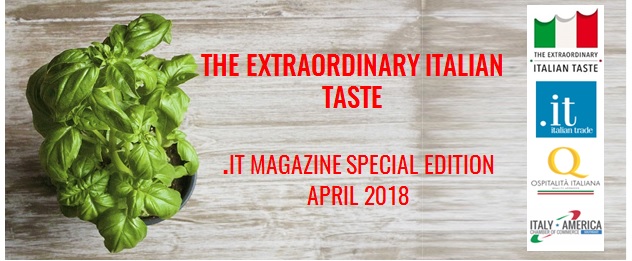 The Italy-America Chamber of Commerce Southeast (IACCSE) is pleased to announce the publication, on April 2018, of the Special Edition of its magazine .it Italian Trade titled: The Extraordinary Italian Taste in search of  the authentic Italian culinary experience in the USA.
The magazine will celebrate the best of Italian food and wine and its influence over the American lifestyle, featuring interviews with protagonists of food and hospitality industry.
The official presentation of the magazine will take place on April 25, 2018 during the event "The Authentic Italian Table", organized by the IACCSE showcasing the best Italian Restaurants and some of the most renowned food and wine producers, chefs and culinary personalities in South Florida.
The event will attract 600+ of participants including 100+ industry leaders.
INDEX OF CONTENTS
Renowned entrepreneurs and representatives from the food and beverage and hospitality industry will talk about new consumer's trends, hospitality quality, culinary tradition and innovation, relationship between products and territories, excellence in food service equipment. There will be also a section dedicated to legal and financial aspect of starting a hospitality business in Florida.
DISTRIBUTION
3,000 free printed copies will be distributed throughout our networking, including the Consulate General of Italy, Italian restaurants and most important food and beverage importers and distributors.  The publication will be also available for free downloading at the IACC website (more than 1,700 unique visitors per month).
Make your business stand out with an ad! 
ADVERTISING RATES
| | |
| --- | --- |
| Back cover + editorial or interview | $ 2,700 |
| Inside front cover (2 pages) | $ 2,500 |
| Inside back cover (2 pages) | $ 2,300 |
| Two Page Spread | $ 2,200 |
| Full Page | $ 1,300 |
| Half Page | $  700 |
If you purchase a double page spread or a back cover, you have the option to include an interview or an editorial in the publication.
A discount fee of 20% will be applied only to IACC members.
PLEASE SEE THE MEDIA KIT HERE.
For further information please contact us at info@iaccse.com call us at 305-577-9868