Members, friends and local authorities got together on May 17th to celebrate the Grand Opening of the New IACC headquarters, located at 999 Brickell Ave.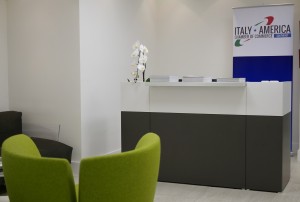 The Consul General of Italy Hon. Gloria Bellelli, and the President of the IACC Southeast Tommaso Cardana cut the ribbon and unveiled the plaque made in honor of the companies that donated services and materials for our new home:
Alea for the office furniture;
Adotta for the tempered and laminated glass partitions;
Italkraft for the kitchenette;
Itlas for the wood floor of the meeting room;
Engineered Automation for installing our network of communications;
Santa Rosa Marble for the Italian tiles from the Travertini collection of Ceramiche Coop. d'Imola;
and, finally, Dodo Arslan Studio for the coordination of the remodeling works and the interior design.
These donations have a particular meaning for us, since they are the reflection of how much the Chamber and its role are appreciated by the business community.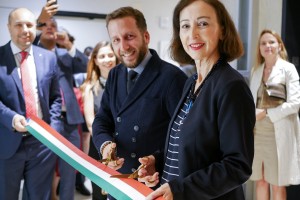 It has been truly a collective effort of many people, each one contributing with his skills for a common objective. So, it was a celebration not only of a new phase in the life of the Chamber, but also of the efforts of the people that every day keep this organization alive and dynamic.
Legal advice for the lease contract and for the Italian Lab Project has been provided by Roca Gonzalez, P.A and Robert Allen Law.
The numerous guests enjoyed a selection of Italian bites prepared by Chef Andrea Marchesin by Toscana Divino.
Watch the video of the Grand Opening: