by Italian Citizenship Assistance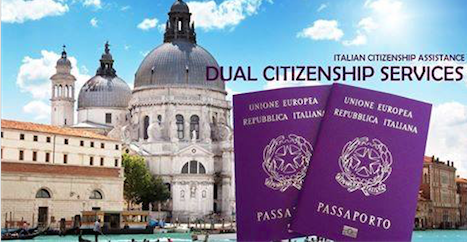 Many people dream of the rolling hills of Italy and living the "dolce vita". Because of this interest, many have uncovered that they can turn this dream into a reality and walk through the doors that the Italian government has left open to people of Italian descent to come back home.
A number of well-known Italian Americans have also jumped on this opportunity, such as Robert De Niro, but thankfully you don't need a Hollywood budget to make this happen. 
While doing research many become off put by the information they find about the process. However, while the application requires great attention to detail and can be complex, this is something Italian Citizenship Assistance has years of experiencedealing with.
ItalianCitizenshipAssistance.com is here to help people as much or as little as they may need throughout the entire process. They'll even be there to celebrate with you at the end.
Dual Italian citizenship is not only an investmentfor oneself but also a gift to future generations. Pride in one's heritage often doesn't come in a tangible form but going through this process can literally make someone a "card carrying Italian", adding another dimension to one's pride in their heritage.
Their goal is to assist individuals of Italian descent in pursuing Italian citizenship by descent, a fascinating journey through time and one's own family history. There are many documents that need to be collected, legalized and translated. They specialize in taking care of all of the necessary leg work so our clients can be well prepared.
Italian Citizenship Assistance (ICA) is a consulting firm which provides Italian citizenship consulting services not only to US citizens but to citizens of other countries through our offices in the US and Italy.

For more information feel free to visit their website here and if you have any questions always feel free to get in contact here or by email at marco@italiancitizenshipassistance.com or call 3238920861.