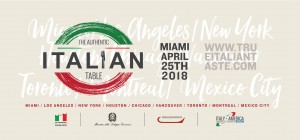 Miami 
Wednesday, April 25th, 2018
PARTNERSHIP OPPORTUNITIES
WHAT IS THE AUTHENTIC ITALIAN TABLE
INDUSTRY SEMINARS, GRAND TASTING, PROMOTIONAL INITIATIVES, EDUCATIONAL PANELS FOR CONSUMERS
"The Authentic Italian Table" will gather most of the South Florida restaurants honored with the Italian Quality Seal – Marchio Ospitalita' Italiana  as well as gourmet food & wine importers.
It will be an high-end Italian food & wine event, for 100+ industry leaders, journalists, influencers and for a selected group of 500+ foodies.
The Italy-America Chamber of Commerce will promote the event through different partnership with local food blogs and media outlet.
The event will take place in Miami in a prestigious location to be announced soon.
HOW TO PARTICIPATE
FREE PARTICIPATION AS EXHIBITOR:
If you are an Italian restaurant or a food or beverage importer, do not miss the opportunity to be part of this unique event that will target the local community through an extensive social media campaign.
BOOST YOUR PARTICIPATION WITH A SPONSORSHIP PACKAGE:
If you want to enhance your brand using "The Authentical Italian Table" platform, we have the right offer for you:
Full page AD in the official Magazine of the Event;
Being a Speaker in one of the Seminars/Tastings for consumers organized during the event;
Logo in the official Invitation of the Event;
Logo into Step and Repeat of the Event;
N. 10 tickets for your clients/guests to the Event.
The event is sponsored by the Italian Government and is part of the Extraordinay Italian Taste campaign, aimed to raise awareness among North American consumers about authentic Italian products. The Authentic Italian Table event will take place simultaneously in 8 cities of USA and Canada.