Choosing to be a member of the Italy-America Chamber of Commerce (IACCSE) is not only a clever choice for one's own business but it is also a statement. It means that an entrepreneur is engaged with his or her own community, that he or she is willing to cooperate with other business' owners in order to build an organization devoted to foster ties between Italy and the USA, as well as to support new entrepreneurs in their endeavors. Endeavors that eventually will be successful and will create jobs in the region, helping communities to flourish.
On December 7th 2016, in occasion of the traditional IACCSE Holiday Dinner, longstanding members of the Chamber received a well-deserved recognition.
During the night, the IACCSE Board of Directors has honored with the IACCSE Pillar Award the following companies:
20 years Membership Anniversary:
15 years Membership Anniversary:
Finley & Bologna, International 
InterAmerican Hotels Corp.
10 years Membership Anniversary:
Savino Del Bene USA, Inc.
5 years Membership Anniversary:
Shutts  & Bowen
Evolution Travel USA, Inc.    
GLF Construction Corporation
Cibo Wine Bar
Enolgas USA Inc. 
Sara Coen Giovanelli
Monique Troncone, CPA, PA
IBS Insurance Group Inc.
LF of America Corp. (subsidiary of Lameplast, Spa)
Furthermore, there was a recognition to the new Premium Members of the Chamber for their generous support in 2016:
De Sousa Import, LLC
The Miami Football Club.
Mr. Diego Cagol, Maya Enterprises, Inc., celebrating 20 years of IACC Membership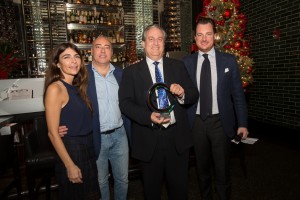 Mr. Chandler R. Finley, Finley & Bologna International, celebrating 15 years of Membership