The Italy America Chamber of Commerce Southeast is working to keep catering the most effective services to our Members and community, in an effort to support and care for one another in a Member-to-Member approach.
The Martketplace is a new dedicated area where our members will be given a certain level of visibility by promoting special offers and business opportunities targeted to our members and peers. This forum will be an interactive place for Members to communicate with each other.
If you wish to post your business opportunity,  do not hesitate to contact us at info@iacc-miami.com
INSERZIONI ANNUNCI D'AFFARI

Avete l'opportunita' di inserire annunci d'affari sul nostro website e gruppo linkedin.

Per maggiori informazioni contattateci a info@iacc-miami.com
---
IACCSE Member VillaNERI presents:
Light, warm, flexible, smart, plug&play, Italian… Ideal for outdoor dining space. No electrician need. Flexible to change configuration every night.
Exclusive discount for IACC member:
25% for any components
delivery in Miami Area in 24h
free first set up included
For further information about this product and discount visit 
www.villa-neri.com
 and use the 
code IACC2020
Croissant GastroBakery is the new, appealing opportunity for investors willing to fund a future profitable business located in the center of North Miami. Having all the necessary plans, permissions and authorizations in place, the bakery is ready to start construction for a 40-seat full-service restaurant with a small bar supported by a service/preparation counter, full kitchen with grease hood, back of house, storage and 2 ADA toilets.
The company owner has already signed an agreement with the North Miami CRA which entitles the business to a $150,000 grant to reimburse its construction costs and to participate in the city wide effort to improve and boost the cultural/gastronomic center of the city.
Croissants Gastrobakery is a completely functional and professionally designed restaurant project which includes proprietary recipes, manuals, operating plan as well as a solid financial plan with projections. The company is looking for:
An investor to complete the buildout and startup of the operation. The investor will be paid back with 40% of operating profits plus 4% interest. Once investment is paid back, the investor will retain 20% ownership of the business.
A strategic partner required to complete buildout, participate in the operation and retain 40% ownership stake in the business.
A buyer for the project as-is, including lease assumption
A buyer for the buildout complete and ready to operate with occupational and food licenses.
This business opportunity could also be a great chance for Italian entrepreneurs with experience in the food industry who are looking for an investor visa to move to the USA.
For more info, please contact alex@coboconstruction.com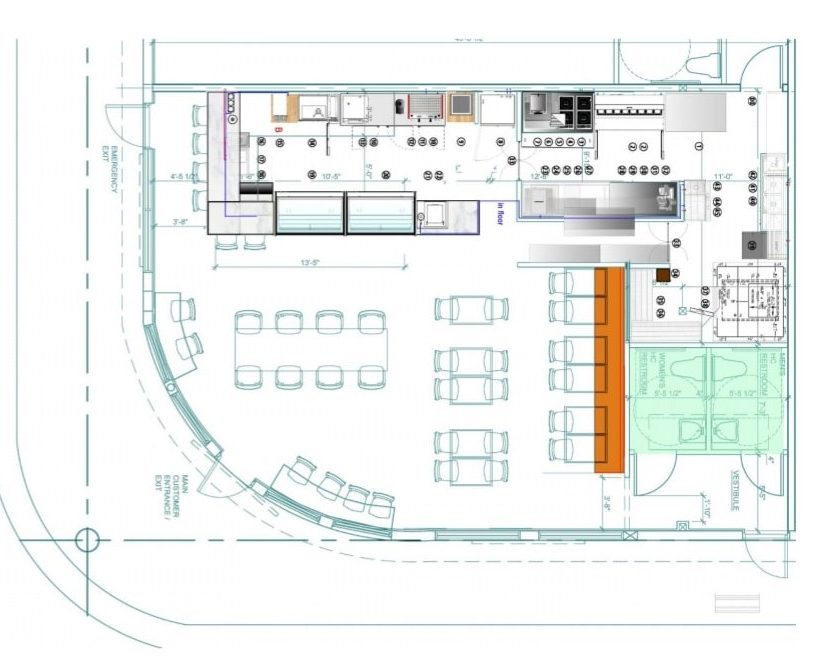 Beautiful boutique Gelateria and Cafe located in Wynwood, Miami's newest and most popular tourist district. The Gelateria opened for business on March of 2018 and have received critical acclaim from publications and have 5 star ratings in all social media platforms (Yelp, Google Maps, TripAdvisor, etc.)
The business has been profitable since it opened and has just received it's Beer and Wine license, which will be an important added source of revenue (expected yearly revenue of $200,000-250,000.) The store is 500 square feet inside and has another 500 square feet of covered terrace with seating for 20 clients, an oasis for clients from Miami's heat. The interior is elegant without sacrificing a welcoming environment, with Carrara Marble Countertops, Acacia Wood Floors and high-end finishes. A professional branding agency was hired to create the look and feel of the brand.
The business is ready to go from the first day and our machinery is all new with Italian batch maker, pasteurizer, gelato case and espresso machine. Included will be 1 month of training from the owner and we will bring a Master Gelato Maker from Italy to train the new owners as well at no extra expense.
We have business partnerships with tour companies in Miami who regularly bring tourists to our location. We are also part of the Wynwood Chamber of Commerce which works to help the neighborhood achieve its full potential as a vibrant community for all that is centered on creativity, innovation and art.
Please refer to our website for our exact location, branding and more information: flaviangelato.com
We are asking €245,000 (negotiable.) We may finance part of the purchase price for the right buyer.
Interested investors please contact: info@iacc-miami.com